Filter by Category
Dental Continuing Education
Online Registration Unavailable
EFDA 2020
Price not
available
More Information coming soon!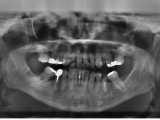 Online Registration Unavailable
Getting to the Roots (and incisal edges) of Dental Radiographs
with Lynn Noonan
Are the apices and/or incisal edges MIA in your radiographs? The benefits outweigh the challenges of digital radiography, but there are tips and tricks to obtain great radiographs. This course will help participants understand and apply projection geometry in order to make adjustments in angulations to capture the apices and incisal edges of radiographs and avoid overlap errors.
CEUS: 4