Filter by Category
CPHDH
Medical Management in Public Health Dental Settings (21007)
with John P. Ahern

Next available session starts Mar 13, 2023
This course addresses systemic conditions and diseases with emphasis on dental hygiene treatment planning, the management of dental and medical emergencies in alternative dental settings and includes a pharmacology review for common disease states. An update on the "new normal" for infection control procedures and use of preprocedural mouth rinses.
Online will run March 13 - March 18, 2023 (Delegates should access and review material and take the pretest prior to LIVE on campus class)
OnCampus:  March 18, 2023, 9am - 4pm
Times: 9:00 am - 4:00 pm
CEUs: 6
Evidence Based Dentistry for the Dental Professional
with Hope Saltmarsh

Next available session starts Mar 27, 2023

, runs for 1 week
Course opens March 27, 2023 -  ONLINE - delegates should access and review material prior to LIVE on campus class April 1, 2023 from 8:30am - 3:30PM.
This is a hybrid course.  The course will include lecture and PPT slides, discussion, and demonstrations of techniques to conduct online searches to find the best levels of evidence available to answer clinical questions and discover implementation and other relevant types of evidence to inform public health professionals seeking to design, deliver, and appraise dental public health programs. Included in the course will be opportunities for attendees to conduct searches to answer clinical questions, as well as program component, delivery and appraisal questions. During the course attendees will be required to conduct their own guided online searches and to report back to the group their findings. The instructor will be available throughout these exercises to provide assistance, as needed.
The on campus class will be held on Saturday, April 1, 2023 from 8:30 am to 3:30 pm in Macrury Room 138. The course will open on CANVAS on Monday, to allow participants to review posted materials that will be useful before and after the course.
CEUs: 7.0 (5 hours didactic and 2 hours online lab)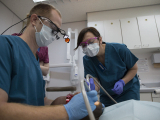 Caries Stabilization (Hybrid) (30532)
with Dr Jonny Norris Kristen Saczawa RDH

Next available session starts May 19, 2023
Participants will learn indications and contraindications to sealants and ITR placement and will have an opportunity to place glass ionomer pit and fissure sealants, as well as practice ITR placement on teeth. Evidence supporting this technique will be presented.
Online portion: May 19 - June 3, 2023
Clinical Portion (NHTI CAMPUS): Saturday, June 3, 2003 - 8:30am - 4:30pm                        
Note:  This course has 4 didactic credits and 6 lab credits
CEUs: 10
Prerequisites and required documents: Active RDH license - email to nhtibtc@ccsnh.edu 
Personal Protective Equipment: Students must provide their own PPE. This class requires: a face mask, safety glasses or safety shield, gloves, scrubs, and a lab jacket.
PLEASE NOTE: You will not be  offically registered and a seat will NOT be reserved for you until ALL paperwork as well as payment is submitted.